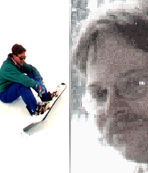 Established in 1997 by the family and friends of thirty year old Chris Maki. Chris was randomly attacked, robbed and stabbed to death while walking to his apartment in Charlotte, NC on
November 5, 1997.
¨¨¨

The mission of the foundation is to educate all, especially the young, about the occurrence and the consequences of violence in our society today.
| | |
| --- | --- |
| | Letter from a friend - April 10, 2005 |
| | |
Hi Maki's!

What a wonderful day for a walk! Make that two of them!!! Today was quite a day for the Rodgers Masons and I wanted to share a bit of it with you....

We started out our morning at the crack of dawn thanks to Jack! We had smiles on our face because it was a beautiful day and I knew Chris had something to do with it! Our morning started out with some juice & cereal and Jack pointing to the computer and "signing" music so I will go to chrismaki.org so we can hear Verge sing "The Garden". Soon the kitchen smelt great with brownies baking in the oven...I think Tom and Jack were both a little confused #1 because I generally don't bake and #2 at 7:00 a.m.????

So off to Boston we went, all of us wearing a Chris shirt from different years! Sara was so happy to see us and commented on our family wardrobe! The walk went well! Jack surprised us both by staying in his stroller the whole time! Our Team once again reached our fundraising goal and Sara couldn't have been happier!

So after the walk we went on a family walk to The Garden of Peace so we could spend some time today honoring Chris in a different way than we usually do on the day of the walk. Jack didn't nap today so he was a bit out of control! When we got to The Garden of Peace I held my screaming cranky little boy and sang "The Garden" to him softly in his ear and he calmed right down pointing to all the stones it seemed to me that he made the connection. I showed Jack Chris' stone, we brushed off some pebbles then Jack leaned down and kissed his stone! It was quite a moment for me!

We missed being with all of you today but I wanted you to know that you are always in our thoughts! Usually starting at breakfast while listening to "The Garden"!

With Love!

Torri

p.s. This years shirts are GREAT!!!